THEATRE REVIEWS
Legally Blonde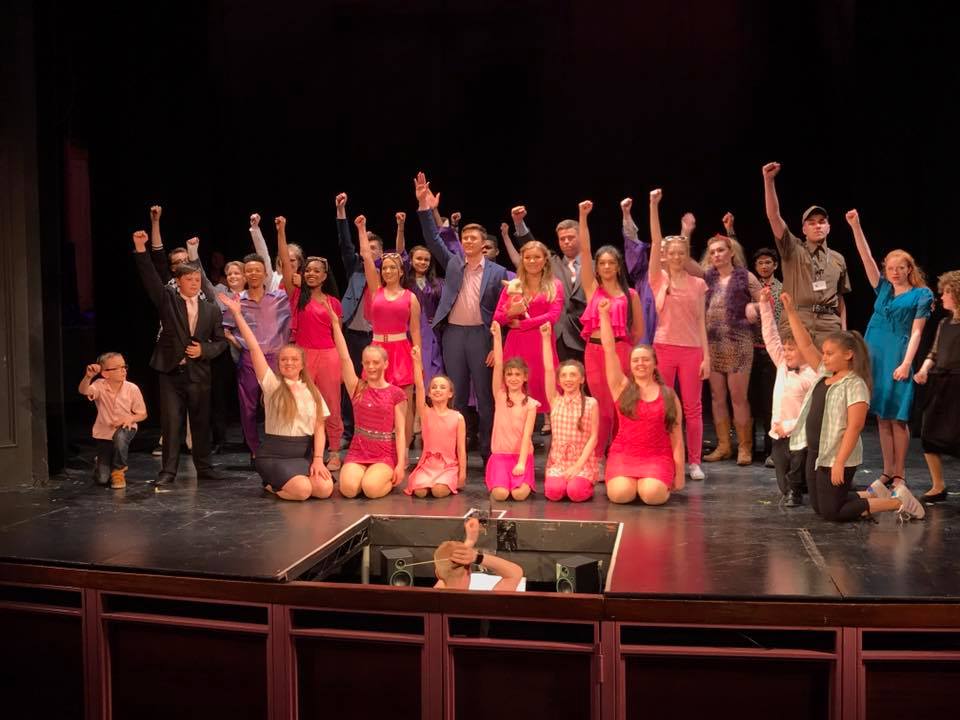 The Old Rep – 26th of May 2017
Legally Blonde is doing the amateur theatre circuit rounds at the moment, with many youth theatres tackling this feel-good show. The Old Rep this week plays host to local company Youth Onstage, who have gutsily taken on the challenge of this complex production.
The show wasn't without its glitches. There were some cues missed, projection issues, a disappearing dog and a premature caravan appearance. However, considering these challenges, the capable cast pulled through with professionalism, not letting these distractions detract from their individual performances.
Hannah Brook is, without doubt, the shining star of this show. She really is Elle Woods. Her voice is sublime throughout and vocally she is one of the best Elle's I have seen on the youth circuit. Coupled with an assured character performance, it was a treat to watch her. Matty Brook complemented well as Emmett and James Woodward made for a sleazy Warner.
Good support came from Charlotte Young as the hilariously quirky Paulette – she had a beautiful time to her voice. Alongside, assured performances from Tom Ashen as Kyle, Eboni Green in great voice as Vivienne and Renee Squire as Pilar. The Greek chorus harmonies were tight and the girls blended well together.
Sometimes the funniest moments can lie in the cameo appearances and this was true of the performance I saw last night. Kia Gates threw everything she could at the role of Enid and really played up the character. It's such a brilliant role and it was great to see it showcased in this performance. And the final cameos came from the utterly super Jay Alves and Jordan Matthews in Gay or European – as always this song is a personal highlight.
With direction and musical direction from Deb Brook and David Jones, there was a wonderful, supportive atmosphere in the theatre last night and audiences whooped and cheered throughout. The palpable camaraderie is a credit to Youth Onstage and they continue to work hard to deliver a good show.
www.lovemidlandstheatre.co.uk/reviews/legally-blonde-youth-onstage

Birmingham MAIL
Legally Blonde The Musical
The Old Rep – 25th of May 2017
The hottest ticket in town…
Youth Onstage
The Old Rep, Birmingham
A hot night calls for a hot show.
This production rises to the challenge. It sizzles with fun.
Frothy and pacey, it is delivered by a bunch of energetic, enthusiastic, talented young people.
In such a difficult week with the Manchester tragedy on all our minds, and perhaps not a little apprehension among many in town, it lifts your spirits.
But the measure of a show such as this is not entirely dependent on audience reaction – they loved it, by the way.
It's also to do with how much fun the cast has.
And in this case it's clear that, in spite of it being a baking first night, and the pressure of getting it right, they were having the best time.
The show has a simple premise. Luckless Elle Wood is dumped by her boyfriend and her world folds.
Anyone who has ever been a teenager will know the feeling.
But how do you get your life back on track, come back from the knock-backs and set about fulfilling your potential?
It would be unfair to single out one or two cast members when each member of the team brings so much.
But several members of the cast – and not only those in key roles – confidently own their own space and the stage in every scene they appear in.
Youth On Stage(YOS) has a hall of fame of previous members who have gone to do well professionally.
I'm sure some of last night's cast will do the same.
But I must mention Rudi, the young Chihauhau who struts his stuff as Bruiser.
He joined the cast after Youth Onstage issued a plea via the Birmingham Mail.
He'll melt your heart as will another four-legged star, British Bulldog Beefy, who stars as Rufus.
A word too, for the YOS band. It must have been very, very warm in the theatre pit, yet their playing was immaculate.
The show runs until Saturday, May 27.
*Founded in 2002, Youth Onstage is a performing arts company which offers its members, aged 9-25, a firm grounding in musical theatre – singing, acting and dancing.
www.birminghammail.co.uk/whats-on/theatre-news/the-hottest-ticket-in-town-13094907

With pantomime season in full swing, Youth Onstage threw their contribution into the mix, with a sparky performance of Aladdin.
We are quickly introduced to our young hero, played by Tom Ashen. His unique, husky voice worked well and shone through when he sang in the ensemble numbers. He was paired well with Ellie Burley as a sweet, yet determined Princess Jasmine.
A young Empress, played by Esme Read, exuded confidence beyond her years and Lauren Chapman as Wishee was equally endearing in her role.
Strong performances also came from Jessie Miah as Spirit of the Ring and Matty Brook as Genie. Never Had A Friend Like Me closed the end of act one well and was packed with energy from the supporting cast.
A particular highlight of the show was On The Menu This Evening. Jacob Murphy and Harry Ashenwere a delightful comic duo, and when combined with Lauren Chapman and Gibsa Bah, they delivered a hilarious performance.
Other commendable performances of the show came from Sinead Donnelly as Abanazar, Gibsa Bah as Widow Twankey and Lilly McIntyre as So Shy.
Youth Onstage continue to deliver enjoyable performances and this one was no different. With a packed out audience, congratulations to all involved.

Youth Onstage
BUGSY MALONE – 5th of May 2016
The Old Rep Theatre
THE youngest ever cast was assembled by the company for this gangster musical, and, with some newcomers in the line-up, they put on a fine show.
Due to certain senior members being tied up with exams, Tamworth-based director Deb Brook had to shuffle the pack, and she must have been pleased with how well the group, aged between seven and 17, coped.
Particularly on opening night where they had to deal with a few technical hitches, and even the odd mistake seemed to blend in nicely with the action and earned cheers from the audience.
For instance, after splurge guns had dispatched a couple of people in a barber's shop scene, one of the corpses, in the semi-darkness, was seen to leap from a wheel chair and sprint off stage. Never mind, it raised a laugh.
Queen Mary's Grammar School student Gibsa Bah, 15, excelled as city slicker Bugsy Malone, stepping in to help Fat Sam's gang who had only pies as weapons against Dandy Dan (Jake Ashen) and his machine-gun hoodlums.
Musical highlights were provided by Eboni Green (Blousey), with Ordinary Fool and Georgia Sheward (Tallulah), with My Name is Tallulah, and some cute comedy came from Paige Allen (Knuckles} and Lena Morelli (Grace Evenden).
Musical direction was by David Jones with Amy Evans' choreography.
Paul Marston
Love Midlands Theatre
BUGSY MALONE – 5th of May 2016
The Old Rep Theatre
Splurge guns and pies at the ready. Forty years after Alan Parker's Bugsy Malone hit the big screen it remains a popular choice among youth groups everywhere.
Youth Onstage really bring out the show's humour in a production at The Old Rep in Birmingham. The story is based on the mob rivalries of 1920's Prohibition America as Fat Sam and Dandy Dan go head to head for supremacy. Cue a gangland war, a love story and a lot of splurging.
Gibsa Bah shines as the protagonist Bugsy with natural stage presence, while Eboni Green has poise and a lovely voice as the sassy object of his affections Blousey. Thomas Ashen steals the show as Fat Sam with an accent which never once drops and strong characterisation. Needless to say it's not easy for youngsters to look and act old, but Ashen gets the physicality of his character spot on.
He is well supported by Georgia Sheward as his moll Tallulah. An 11-year-old Jake Ashen impresses as Fat Sam's rival Dandy Dan, alongside his wife Louella who is portrayed nicely by Phoebe Mason. Meanwhile Nicholas Eynon-Colon impresses as Fizzy, particularly in a delightful rendition of Tomorrow.
The action moves along at a good pace and there's strong support from Esme Read and Bethany Leonard as Lt. O'Dreary and Captain Smolsky; the hapless police team trying to keep up with the ever-increasing number of splurge gun victims. And Gracie Evenden lights up the stage in There's No Business Like Show Business as the showy, pompous performer Lena Morelli.
Well done to director Deb Brook and her team for creating this fun-filled version of a classic.
Cinderella – 2nd December 2015
YOUTH ONSTAGE
THE DOVEHOUSE THEATRE, SOLIHULL
WITH Christmas fast approaching, what do children enjoy as much as attending a good old traditional pantomime?
Judging by this excellent production, the answer is performing in one, and the 30-strong cast simply burst with enthusiasm in the timeless story of a downtrodden young girl who marries a prince – with the help a fairy godmother, of course.
Director Deb Brook, a Tamworth-based teacher, has drilled the youngsters superbly, and some of her former pupils are now in the West End or abroad enjoying theatrical careers.
Most of the colourful costumes were made by parents, committee members and friends, and all the hard work is now reaping its reward, particularly in some of the dancing sequences choreographed by Suzy Bleasdale and Jess Walton.
Jessie Miah, a 16-year-old Birmingham musical theatre student, sparkles as Cinderella and enjoys some amusing exchanges with Matt Brook (Buttons) and the highly entertaining ugly sisters Grizelda and Gertrude (Tom Ashen and Gibsa Bah).
Impressive performances, too, from Kia Gates (Prince Charming), Georgina Sheward (Dandini) and Jay Alves (Baroness Rubella).
The masked ball and the hunting and haunting scenes were particularly good in a fine panto which, however, is perhaps about 20 minutes too long.
Andy Johnson is musical director of the show which runs to Saturday December 6, after which the company will begin hunting for new members, aged nine to 19, for their next production at the Old Rep, Birmingham – Bugsy Malone.
PAUL MARSTON
Cinderella Review – Love Theatre – December 2015
Cinderella is a pantomime favourite and the festive season is now well and truly in full swing in Theatreland.
Youth Onstage have once again proved what a talented group they are, as bundles of energy and enthusiasm are thrown into this production. Beaming faces on a packed-out stage make the opening number, I Gotta Feeling, a delight.
Sometimes one of the most challenging jobs is the audience participation, but Matt Brook instantly drew us in as the adorable and endearing Buttons.
We are quickly introduced to the title character, Cinderella, who is played gracefully by Jessie Miah. With a beautiful voice to match, she delivers an accomplished performance. Excellently paired with Kia Gates as Prince Charming, their harmonies in Sam Smith's Stay With Meand Ed Sheeran's Thinking Out Loud impressed.
It is ugly sisters, Grizelda and Gertrude, who predominantly provide the comic relief. Played scarily well by 15 year olds Tom Ashen and Gibsa Bah, they work brilliantly together, with confident ad libs and a hilarious rendition of Beyonce's Single Ladies. Their mother, Baroness Rubella, is played by Jay Alves – his first principal role. A daunting task, especially in heels. Though slightly nervy at the outset, his confidence grew through the show and his dancing and characterisation were mightily impressive.
Georgia Sheward provides an assured performance as the Prince's sidekick Dandini and there is a pun-tastic double act from Alicia Flint and Emma Collis. Plus support from Thomas Brandon as Cinderella's father, Baron Hardup.
Particular music highlights of the show included Colour My World and Uptown Funk. The entire group harmoniously sang through the songs, proving what a talented bunch of people they are.
Although running slightly long at just under 3 hours, it was clear that the whole audience enjoyed the show. With a fantastic creative team behind the scenes – including Director, Deb Brook and Musical Director, Andy Johnson – this really is a whole group achievement and well and truly sets the mood for the festive season. Congratulations Youth Onstage, you've done it again!
Youth Onstage is brimming with the talent of tomorrow – 9th of August 2015
Formed in 2002, Youth Onstage have been entertaining audiences for over a decade with their annual pantomimes and musicals. Tonight's concert, Encore, is very special as it brings together both past and present performers who take the audience on a musical journey. Though most songs in the programme would be familiar to fans of musical theatre there are some fantastic contemporary numbers from less well known shows, such as The Unauthorised Biography of Samantha Brown and The Last 5 Years.
The young performers, from teenagers up to the age of 25, prove committed players. It is clear to see that a lot of time and energy has gone into this production and the end result is a polished product, each song flowing beautifully into the next.
Impressive costume design is first showcased in December '63, as 4 dashing young men take on The Four Seasons, in matching blue suit jackets with black lapels. It is during this number that Dominic Harris first wows the audience with his powerful yet silky voice, later going on to take lead in a showstopping rendition of Run and Tell That from Hairspray which sends the crowd wild! The energy in the room is electric.
Stand out performers include Kia Gates, Hannah Brook, Carly Taylor, Dan Peet, James Hudson and Jay Alves. Choreography shines, particularly in big numbers where the entire company take to the stage, which are always the most challenging. It is apparent that the success of Youth Onstage is down to teamwork, and a shared love of performance. Faces beam from the large stage, full of enjoyment, and for the audience that spirit is infectious. People shout, cheer, and tap their feet in time with the music. It is incredible to witness the confidence and capabilities of so many young, multi-skilled performers.
Youth Onstage will return to the boards later this year with their annual panto at The Dovehouse Theatre, Solihull. Be sure to witness the talent of tomorrow.
For more information about Youth Onstage visit their website www.youthonstage.org.
Love Midland Theatre Review
Les Miserables – School Edition – May 2014
YOUTH ONSTAGE
THE OLD REP
Forget the X Factor and similar shows – Brum's got real talent, and this show proves it, big time. The reaction of the first night audience, frequent bursts of applause, cheering and a standing ovation at the end, acknowledged the quality on stage.
In a super show which cost 15,000 pounds to stage, the 29-strong cast, aged between 9 and 19, revelled in the story of French peasant Jean Valjean's quest for redemption after 19 years on a chain gang for stealing a loaf of bread.
Student Daniel Carpenter gives a powerful performance as Valjean who rises to become the wealthy Mayor of a town but is relentlessly pursued by the single-minded police inspector Javert, impressively played by Dylan Hartnell. Carpenter's singing of Bring Him Home and Hartnell's delivery of Javert's suicide lyrics are memorable, while Matt Brook (Marius), Laura Nicholson (Fantine), Jessie Miah (Cosette), Sarah Fullwood (Eponine), Nicholas Eynon-Colon (Gavroche) and Tom Ashen (Enjolras) all make a huge impact.
Delightful comedy, too, from Sam Hughes and Jess Walton, the crooked inn keeper Thenardier and his wife.
Excellent chorus work, costumes and scenery add to a stunning show cleverly directed by Deborah Brook, with Suzy Bleasdale's choreography and Andy Johnson's musical direction.
To Saturday night May 10.
VERDICT: *****
PAUL MARSTON
A Musical Mash Up – December 2013
YOUTH ONSTAGE
DOVEHOUSE THEATRE, SOLIHULL
As a taster for next May's production of the schools edition of Les Miserables at The Old Rep, this concert was a sure fire winner. A cast of 22 youngsters, drawn mainly from the Birmingham, Solihull and Tamworth areas, demonstrated that the West Midlands is bursting with teenage talent. Les Mis will be staged from May 7-10, and the company still need to recruit a few more actor-singers for the show. They must be between 9 and 19 years old and in full-time education.
The concert, in Youth Onstage's 10th anniversary, was packed with more than 20 numbers from various musicals, closing with four sparkling solos featured in the May show – Castle on a Cloud (Bethan Handford), Empty Chairs and Empty Tables (Matt Brook), On My Own (Carly Taylor) and Bring Him Home (Dan Peet).
Earlier there were outstanding contributions from Samara Rawlins (One Night Only, from Dream Girls), Melissa Harper (Another Suitcase, Another Hall, from Evita), plus several excellent ensemble pieces. Former member Hannah Brook returned from University for a beautifully sung Somebody to Love (We Will Rock You), and the programme included amusing items too in a fine show directed by Deb Brook, with Suzy Bleasdale's choreography and Andy Johnson's musical direction. The second and final performance was on Saturday night.
VERDICT: * * * *
PAUL MARSTON
Grease – May 2013
YOUTH ONSTAGE
THE OLD REP
Last December this talented company had to cancel their annual pantomime due to a shortage of members, some having moved on to universities and colleges. What a difference a few months make! New recruits came in and have done so well that they are now confidently taking part in this popular musical, a spin-off from the famous film starring John Travolta and Olivia Newton-John.
Making their debuts in the lead roles of Sandy Dumbrowski and Danny Zuko, Laura Nicholson and Kyle Passmore sparkle in key numbers like Summer Nights and You're the One that I Want, in both cases receiving strong support from the ensemble. Their love develops at Rydell High School in the 50s when Danny is leader of the leather-jacketed 'greasers' and Sandy has to overcome her image as a rather wholesome good girl with no bad habits.
Outstanding performances, too, from Dom Harris (Kenickie) and Sarah Fullwood (Betty Rizzo), and one of the most impressive scenes features Matt Brook as Teen Angel, Philippa Coley (Frenchy) and the girls in Beauty School Dropout. Another star of the show is the flash American car built by members of the company and brilliantly transformed on stage for the big song, Greased Lightning.
Grease is directed by Deb Brook with Suzy Bleasdale's choroeography and Andy Johnson's musical direction. To Saturday night (May 11).
VERDICT: * * *
PAUL MARSTON
High School Musical. – May 2011
Youth Onstage.
Director; Deb Brook
Musical Director; Andy Johnson
Choreograper: Suzy Petty
Youth Onstage are an exceptional group that couldn't fail to impress with this production.
Their enthusiasm shone through, everyone looked as if they were enjoying every single minute.
Slick direction by Deb Brook and innovative choreography by Suzy Petty utilised the many talented youngsters, some of whom are moving on to university or drama and music training. I wish them good luck for the future.
There were many superb characterisations, Adam Brown (Troy) the school heartthrob was well matched with Hannah Brook (Gabriella). I loved "I cant take my eyes off you."
Georgia Towler (Sharpay) reminded me very much of Elle from "Legally Blonde". Special mention has to go to Alick Draper (Ryan) who was absolutely fabulous!
The Jocks, Thespians, Brainiacs, Students, Cheerleaders, Skater dudes and the adults were a strong support for the principals.
Super costumes, musical direction and scenery made for a very enjoyable evening's entertainment.
Well done to everyone involved, I am very much looking forward to seeing your next production as you get better and better.
Joyce Eyre, NODA
Summer Holiday – May 2010
YOUTH ONSTAGE
THE OLD REP
Based on the film starring Cliff Richard, this lively musical about four mechanics kitting out a red London bus for a holiday abroad proved just the ticket for an impressive young cast. Aged between 10 and 18, they showed remarkable maturity in five appearances before the show arrived at the terminus on Saturday night.
Joshua Coley, who is off to stage school later this year, was outstanding as Don, leader of the team, revealing a fine voice in several of the big numbers such as "In the Country", "Bachelor Boy" and, of course, "Summer Holiday".
He had a splendid partner in 16-year-old Tamworth student Hannah Brook, playing Barbara, the famous singer found as a stowaway on the bus, disguising herself as a boy, in an effort to escape her domineering mother Stella (Gemma Hudson).
Outstanding performances, too, from James Hudson, Adam Brown and Duncan Burt as the other three mechanics Steve, Edwin and Cyril, with Georgia Towler, Kitty Campbell and Eleanor Snowdon, the trio of singers the busmen collected on the way to Athens.
Bright choreography by Suzy Petty helped keep the action moving briskly in a show well directed by Deb Brook, with Barry Smart's musical direction.
VERDICT: * * * *
PAUL MARSTON
CINDERELLA – 3RD DEC 2009
DOVEHOUSE THEATRE SOLIHULL
Can a pantomime really be called a pantomime when it is performed by a youth theatre group? This was the question I put to myself as I readied myself for Youth Onstage's latest offering: Cinderella.
My first thoughts of the Dovehouse Theatre itself were that it was a perfect venue for a small company, a very intimate auditorium, brilliant for a bit of one to one banter with the audience. Unfortunately when the backs went back it was evident that the stage was not at all appropriate. It was floor level, meaning the performers were no more than three feet away from the first row, incredibly intimidating to any performer. This evidently had an adverse effect on the opening number, the cast were nervous and certainly were not singing with their full potential. I must say I commend the cast for their professionalism when the theatre staff admitted latecomers into the auditorium noisily and with no consideration to the performers. I would find it hard to forgive the theatre staff for one instance of this kind but to my utter disbelief they admitted latecomers again 30 minutes into act one in the same fashion!
The casting was generally very good, Prince Ronaldo (James Hudson) and Cinderella (Kitty Campbell)were cast to show off their superb singing voices, which were a bit of a surprise to the audience. Matt Lambden is a fantastic character actor, and when accompanied by Duncan Burt and Gemma Hudson the three dames that resulted were utterly hilarious. Buttons (Josh Coley) was magnetic I could not take my eyes off him when he was on stage he had such a presence. The quality the singing was to a high standard, and the choreography in general was executed well.
This particular version of Cinderella was an original version by Sarah Tomas and unfortunately it showed. One of the main problems is that it was far too long. An attention span of an audience is around 45minutes and with each act being over an hour the action became a little stagnant. I don't deny that the script included all the staples of a panto, the 'he's behind you' 'oh yes he is' and the sweet throwing were all there, but shoehorned in, under the misconception that it would not be a panto without them.
The whole performance was just not as fast paced as it should have been, and was self indulgent at times. Yes, the songs were well sung and well choreographed but that does not mean that the audience wants to watch full versions twice. To open the second act with the same song that had been performed better in the first act was just bad planning.
I feel as if the cast were let down, there performances were very good but should have been tightened up. It was unfair to the performers and to the children in the audience to keep them up so late on a school night and expect them to perform the next day. I don't think a youth group can pull off a pantomime, through no fault of their own they cannot convey the double entendre and bawdiness that a panto relies on. I think that there production of Summer Holiday in May 2010 will be far more suited to the cast and will show off their talents far better.
Review By: Jamie Pitts
Calamity Jane' – 8th of May 2009
Youth Onstage at The Old Rep
Well someone must have been cracking a whip behind the audience, with so many amateur societies struggling with ticket sales; it's reassuring to see very few empty seats at the Youth Onstage's Production of 'Calamity Jane'.
I entered the auditorium; with the gross misconception that 'Calamity Jane' would be just another humdrum amateur production, with all the fluffed lines and out of step dancers that usually grace the stage. I was wrong! Never have I seen a slicker, more professional piece of theatre.
The cast's talents were made all the more extraordinary by virtue of their being so young. Hannah Brook (currently at Polesworth High School) gave a magnificent performance as the boisterous heroine; she captured the audience's imagination and kept them in the palm of her hand throughout. Despite the entire cast being excellent, Matt Lambden as Francis Fryer jumped off the stage as an extremely convincing character actor.
Deb Brook, (Head Teacher at Galley Common School) the director must be congratulated, for such a disciplined performance from her cast, there was not a word or look out of place, and that trait continued throughout the imaginative choreography by Suzy Petty. The no-nonsense can-can in act one was stunning, no concessions for age, the splits were split and that was that.
There was not a single fault that I could find with this production, despite my valiant attempts to spot one. Visually it was astonishing, the stage was alive with the help of well-planned costumes and a set that would be the envy of many societies. 'Calamity Jane' was a triumph, and I truly cannot wait for 'Cinderella' in December.
By Jamie Pitts